Vending Machine
Product/Technology > Vending Machine
Hydrogen water vending machine
Instant cooling / Electrolytic cell / Tablet PC Wireless network / Automatic flushing / Drain Enhanced purifying / Clean Door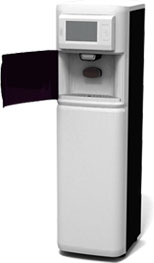 Traits of hydrogen water vending machine
Instant cooling
Instant cooling distributes cooler hydrogen water.
Electrolytic cells operate regularly to generate hydrogen rich water. It has little to do with purifying capabilities.
Tablet PC
Touchscreen Tablet PC enables easy and smooth operation.
Tablet PC has an embedded card reader, which can be used for distributing hydrogen water. The cards can be charged using a tablet PC. Cards that are exclusive for the hydrogen vending machine are available for use.
Wireless network
Tablet PC has wireless network devices installed, and the tablet PC can be controlled through a wireless network. 
Automatic flushing
Hydrogen water suspended in the dispenser tube is automatically flushed, offering cleaner and safer hydrogen water.
Draining
Hydrogen water in the storage tank is automatically drained twice a month, removing undesirable materials or germs.
Enhanced purifying
The RO Membrane filter with four filters and five phase removes toxic materials such as chemicals, germs, or viruses from the water, producing cleaner and safer water. 
One-touch filter
Fast and easy cartridge exchange system enables easy and hygienic filter change.
Embedded Automatic Shut-off Valve automatically shuts down the water dispenser during the filter replacement.
CLEAN DOOR
The Clean Door installed at the dispenser blocks secondary contaminants to ensure hygienic technologies for both water purification and dispensing.
Purifying system
Phase 1: SEDIMENT filter
Protect other filters by removing unresolved debris like dust, sand, or rust. 

Phase 2: CARBON filter 
Filter organic or toxic chemicals like chlorine to enhance the water's flavor. 
Phase 3
Effectively absorbs and removes various chemicals like chlorine in water. 
Phase 4
This core filter has 0.0001 micron processing, which is one millionth the width of a human hair. It removes various metals and viruses. 
Phase 5
Uses granular activated carbon to prevent water contamination and enhance water flavor by removing bad water odors. 
Specification
PRODUCT NAME
HYDROGEN WATER PURIFIER
Stand Type
MODEL NAME
JNSV
SIZE
360(W)X410(D)X1,265(H)
VOLTAGE
AC 100V/220V, 50/60Hz
POWER CONSUMPTION
100W
REFRIGERANT
R-134a
COOLING TYPE
DIRECT COOLING
COLD TEMP. CONTROLLER
Temp. Sonsor
FILTRATION
RO MEMBRANE
DISSOLVED HYDROGEN (COLD WATER)
1.99 ppm (Max.)